This post may contain affiliate links and I may earn a small commission when you click at no additional cost to you. You can read my full disclaimer here.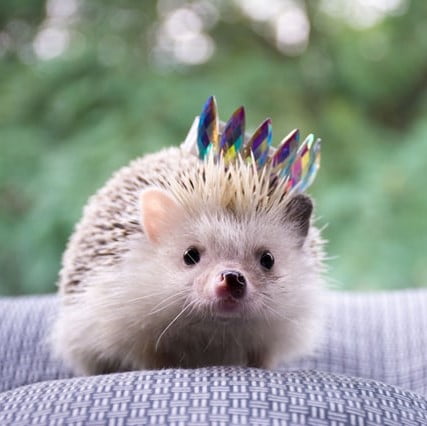 Hedgehog
Can I make KETO Korean Japchae?
Yes, you can! And is easy to cook.
Japchae is one of the Korean traditional dishes. It can be a good side dish so I find myself making it from time to time. As I am on the Keto diet, I just made the Keto version of the recipe.


Let's make it!

If you would like to jump to the recipe now, please click the "Jump to Recipe" below.
Jump to Recipe
Japchae easy recipe using Shirataki|KETO, SIBO, Candida diet
First of all, let me introduce the ingredients that I am using for this recipe. Even though some of the ingredients are from Asia, these are available on Amazon nowadays.
Ingredients
Soy sauce



>>>Ohsawa Organic Tamari, Gluten-Free

Tamari soy sauce is commonly gluten-free and contains 1 gram of carbs per table spoon. I used to use normal Kikkoman-soy sauce, but this tamari soy sauce is good alternative for your health.
Shirataki Tofu
>>> House Foods, Noodle Tofu Shirataki Spaghetti

I recently found this product as an alternative of Shirataki. Shirataki is Japanese low-carb pasta, but is quite hard to find in a normal supermarket. I would say the texture of this product is too soggy compared with Italian pasta, but is a great alternative for Japanese shirataki.
>>>Miracle Noodle Fettuccine Pasta – Plant Based Shirataki
This is normal Shirataki. This product is also KETO, and can be used for this recipe as well.
Chili Bean Sauce
This is my favorite sauce.
This is Chinese Sichuan style chili sauce. It is great for many spicy dishes!
Whole Earth (Sugar alternative)

Whole Earth is made of Stevia and Monk Fruit and has no calories. It is a great choice for sweetening food! I am literary using this for everything as sugar alternative.
Japanese sake
>>> Kikkoman Ryorishi Cooking Sake

Sake is Japanese alcohol, and is one of the basic ingredients for many of Japanese dishes. There are not so many selections for Sake. I am usually using this Kikkoman Sake.



Enjoy!


Print Recipe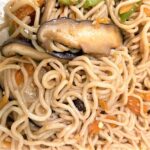 Print
Japchae easy recipe using Shirataki| (Ketogenic)
Korean Japchae using Tofu Shirataki
Materials
1

pack

Tofu Shirataki

25

gram

Chinese chives

Scallions can be alternative

2

Shiitake mushrooms

40

grams

Carrot

1

tbsp

Sesame oil

1.5

cm

Garlic paste *

1.5

cm

Ginger paste *

1

tbsp

Sake *

1

tsp

Soy sauce *

1

tsp

Whole earth (Suger alternative) *

1/3

tsp

Chili bean sauce *

little

salt/pepper

small amount

white sesame
Instructions
Cut the Tofu shirataki to 5cm

Slice the Shiitake mushroom

Cut the Chinese chive to 3 cm

Mix all the ingredients marked *

Heat the sesame oil on a middle size pan

put the Tofu Shirataki and Carrot and fry with medium heat

Put Shiitake and keep frying

Put the mixed sauce and keep heating till all the water is gone

Put the Chinese Chives and keep frying little more

Add some salt and pepper checking the taste

Sprinkle sesame and done!